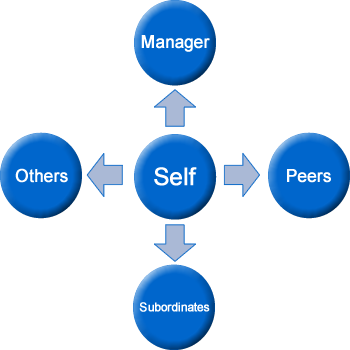 360 Degree Feedback is a system or process in which employees receive confidential, anonymous feedback from the people who work around them. This typically includes the employee's manager, peers, direct reports (270 degree) and external customers (360 degree). A minimum of 6 and a maximum of upto 20 people fill out an anonymous online feedback form that asks questions covering a broad range of workplace competencies. The feedback forms include questions that are measured on a rating scale and also ask raters to provide written comments.
Managers and leaders within organizations use 360 feedback surveys to get a better understanding of their strengths and weaknesses.
This method employs a Mutli-source feedback method which is a comprehensive perspective of an employee's performance. This feedback incorporates the employees'coworkers, direct reportees, supervisor/manager plus his/her own rating
What a 360 Feedback Survey Measures:
360 feedback measures behaviors and competencies
360 assessments provide feedback on how others perceive an employee
360 feedback addresses skills such as listening, planning, and goal-setting
A 360 evaluation focuses on subjective areas such as teamwork, character, and leadership effectiveness

360 Degree feedback offers a variety of advantages:
Promotes constructive feedback and open communication
Develops a culture of continuous performance improvement
Can be a powerful trigger for change
Builds leadership and managerial capability
Provides feedback about leadership and management strength
Embeds values and expected working competencies.